We have talked so much about girls I think it's time we make a sound off to the boys!
Marga and I have always talked about the kind of men we envision for ourselves and since we do not want to delve into the personal side of things, here is a "Peg" of our dream boy instead.
Having "pegs" - or inspiration looks for boys make it seem like they are some sort of fashion accessory... aren't they? Haha. We kid.
In Manila, there are more than the usual stereotypical categories as you would expect...
1) Here we have the typical Manileno, the guy who only wears jeans, t-shirt and rubber shoes on a rotating basis. Nothing new here...and therefore no need to give you such as peg. Just look out your window and for sure you will find him.
2) We can have the usual Manileno in his uniform t-shirt and jeans but there's always one who looks adorable as the preppy boy next door- cardigan loving, converse peddling, Ralph Lauren polo obsessed lad who always looks like he just stepped out of the shower. Mmmm...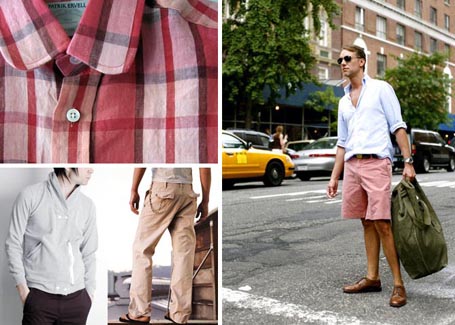 3) We have guys who actaully have a point-of-view who dare to make their outfits more interesting by adding unexpected accessories, ties in an unusual design and shoes in a up to date style other than the classic. They have their black rimmed glasses, slim ties and artsy statement tees.

4) There's the classic guy who wears everything very squarely down to his shirts that are well ironed, the very straight, straight as can be pants, and even the plain white tidy whities but very classic nonetheless.
5) Of course, if I could have it my way, there's the European guy here in Manila (believe it or not) they are Pinoys with a European sense of aesthetic. Classic but very chic. Think boat shoes in suede, cufflinks and messenger bags in leather not canvas.

6) On another note, we have the bad boys in leather jackets, hoodies, and high cut sneakers. Edgy who puts the bad in bad boy! They love their v-neck tees, and I love them too!

I just had to add this picture!

7) Finally, we have the hip-hoppers who have been left behind in the 1990's when Vanilla Ice was the in thing and baggy jeans and messy hair is the norm. I'm not sure if we want to elaborate on this any further...
Here is my pick:

I'm not sure what category he falls under I think its a mixture of a bunch of things:
- looks good in a man's cardigan or leather jacket
- understated attitude but definitely commands attention when he walks in a room
And if he fails in the dressing up category you have our permission to give this to him as a gift: