1. Next Besting - Vintage fashion, convertible couture, sub-brands, and credit crunch jewelry. Over the last year, people became more sensitive to excessive consumerism, and have begun tying their success not just to luxury brands, but to functional products and life experience. Accordingly, Instead of purchasing the priciest product and biggest brand, people are trying new products in the pursuit of the "next best" alternative.
Ukay-Ukay's a.k.a vintage fashion has long been in the Manila scene and the rich and the not-so-rich alike would want nothing more then to compare their latest finds.Here, we find something we like and if it doesn't fit, it's always cheaper to have it altered then to buy something brand new thus giving birth to convertible couture- used but fitting to our needs.
Sub-brands have also emerged and sub brands does not necessarily mean sub-par (just a little more affordable) it's a way for designers to peddle their goods during hard times without necessarily having to hurt the brands image. Its good business sense in my opinion. Think about Marc by Marc Jacobs and how it uses less luxurious materials compared to his main brand, Marc Jacobs.
2. DIY Décor - DIY art, furniture and hobbies are the perfect fix for those who are credit-crunched. Keep your ping pong balls, wine bottles, or plastic jugs because decorating your home has never been so affordable… and culturally acceptable.
Etsy.com has slowly been gaining popularity and the site caters mostly to DIY if you are into that thing though I have yet to be a fan of DIY furnishings without thinking it looks like some sort of school project for Home Economics… However, I am not totally closed to the idea. If you have something fabulous that will prove me otherwise, let me know.
3. Life-Swapping - Today you can swap homes, art, services or even your entire closet wardrobe. Credit-crunched citizens unwilling to compromise their lifestyles are swapping, bartering and trading their way to a better life.
Hmm. I'm okay with swapping goods but swapping lives doesn't sound do-able for me.
Have you heard of Wife Swap the show? I think it's a manifestation of the lack of ideas for a reality show…
4. Pop-Uptailing - Mobile retail displays, pop-up art studios and shipping container bars; banking on exclusivity and surprise, pop-uptailing is the latest way to generate buzz and quickly place your product in new markets.
It's quite common for new restaurants, stores, bars and clubs to pop-up every so often but they pop-up in cemented ways either in full fledged locations where they have to pay for rent and taxes. The most pop-up we can think of are bazaars which can open on weekends and close on weekdays or the Jolly-jeeps which are no longer literal jeeps but food stalls. Boo.
I'm thinking Filipinos aren't daring enough to "pop-up" unexpectedly for fear from Police and the MMDA's… the hassle and the effort, not to mention the "gifts" involved simply isn't worth all the trouble.
Here are a few pop-up stalls abroad for your viewing pleasure. Maybe one of us will have the courage to follow suit?
5. Nomadabodes - The recession in combination with creative architecture have caused an influx of unique temporary housing. Portable apartments, futuristic houseboats, aquatecture and cube living are just a few examples of modern nomadic living.
"When it comes to living space, portability has so many perks. Bored with your current surroundings? Just pick up and go. Natural disaster? No problem. Plus, the transportable homes we see today are a far cry from the standard trailers or RVs of days gone by. Some are architectural masterpieces, others, eco-conscious sensations. Whether it's a futuristic camper, portable log cabin, or post-disaster house-to-go, the number of innovative transportable homes is astounding. " Catherine Yong from trenhunter.com
Nomabodes is the most applicable in Japan where they definitely lack the space. See the pictures here for your reference and tell me if you can stand it.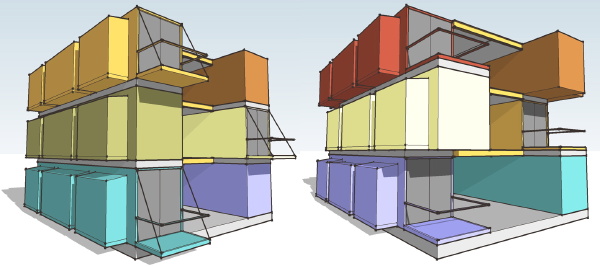 6. Greenpliances - Soapless dishwashers, miniature laundry machines, and
dishwashing
cabinets not only help the environment, but over time, their increased efficiency will help your wallet too.
7. Ecopolitan - Whether it's an underground abode, floating home or high-rise living, Ecopolitan Developments are quickly becoming a way of life. In addition to revitalizing urban centers with eco-friendly elements, nations are building niche cities specifically to meet ecological goals.
8. Simpletising - Fruit inspired packaging, milk boxes with utters and phonetic alcohol… In a cluttered world, visual clarity actually stands out. It also fits well with a desire to pursue lives of simplicity.
9. Emotionology - Humans aren't the only once with feelings; emotion-sensitive jewelry, playlists and phones are manifesting y our mood physically. Scientists and techies alike are exploring the world of emotion and how it can be applied to technology.