The Golden Globes being the first award ceremony of the year sets the mood for fashion in the months to come in my ...opinion.
We see so many beautiful dresses that we are left to do nothing but drool!
Here are Fashion Studio's favorties and we hope you agree with us too.

"WE DON'T GET TO EAT ON GOLDEN GLOBES DAY"
And here she is on the big day- I guess not eating truly has its benefits?
Gorgeous... but a bit too much for a wedding gown than an award ceremony for me.
Nevertheless, this subdued Jennifer Lo is looking even better- right beside Mark Anthony.
Did she read our post on the 2011 Color of the Year?
Because here is Clair Danes in a Honeysuckle Calvin Klein number.
Finally, some color!
This Emilio Pucci saffron number paired with gold accessories and turqoise earrings is a close favorite.
We hope to see more of this this summer.
I don't think this suits ex-Mrs. Parker.
Is this an ode to the death of her marriage?
I think divorce is supposed to make you push to look better, not older...
This is what you pull-off POST Ryan Reynolds?!?
From the newly divorced to the newly wed,
Megan Fox is smashing in this subtle ensemble.
It would have been boring if it weren't for the sky high open wide slit - Welcome to Megan.
With a baby bump and a golden globe, this was definitely her night.
Aww, how soft does she glow.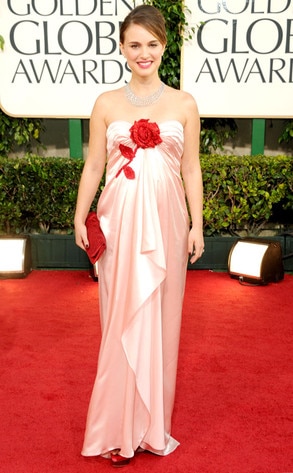 I think her New Year Resolution is to no longer wear black!
Great dress in a great color. Is this the REAL color of the year?
Mila Kunis may be second in line to Natalie Portman in the Black Swan, but she certainly outperformed the other in this dress!
As if to wave the flag of victory for Michael Douglas' fight against cancer, Mrs. Douglas comes in this strong moss green number by none other than my dream wedding gown designer, Monique Lhuillier.
Love.Your.Own.
Which ones did you love and what did you hate? We're too diplomatic to post more of the things we abhorr.
Such a waste of cyber space!
Just wanted to show you the looks we love, let us know yours!