I've always loved watches and they were something I would save my school money for so I could buy one from Swatch or Sanrio.
A loooong way back, it was the only pice of accessory we were allowed to wear in our conservative Catholic all girls school so I had no choice but to use this as my vessel of fashion. I have long given up my old childish watches for the younger generation of cousins but there is always one that I've never really fully let go of- in my heart at least!
Casio Computer Co., Ltd., Tokyo, Japan is one of the world's leading manufacturers of consumer electronics and business equipments solutions, established in 1957. Casio became well known for the wide variety and innovation of its wristwatches. It is one of the early manufacturers of quartz crystal watches, both digital and analog. It also began selling calculator watches during this time. It was one of the first manufacturers of watches that could display the time in many different time zones and of watches with temperature, atmospheric-pressure, altitude, and even GPS position displays. Popular current Casio watches are the G-Shock and Waveceptor models.
Amidst the economic crisis, and many thanks to nostalgia marketing- all the things we used to think as "hip" when we were younger are thankfully, back in the game.
Back when loafers and boat shoes were the shoes of c
hoice and Jansport was every kids backpack, there was Casio on our wrists.
Now, 15 years later, my old friend who originally taught me to read time (because it was digital) has resurfaced once again but this time, in a bolder, brighter and bigger setting... and I'm not the only one wearing these!
Here is a picture of mine, kinda old-school but its new! I got it in Japan for Php 450, such a steal!
...and finally my favorite and most useful Casio Watch of all time!
Casio CA53W-1 calculator watch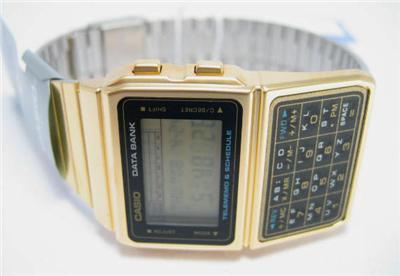 Other Followers of Casio are:
Usher rockin the DW6900 and the Biebz in a red G-Lide.
Don't forget to watch Ellen Paige sporting this watch in Whip It!
Ellen Page, as Bliss Cavendar, wears a classic Casio CA53W-1 calculator watch in the movie Whip It. This classic Casio watch is stocked with features, like the 8-digit calculator, constants for addition, subtraction, multiplication and division, water resistant, dual time, daily alarm, 1/100 second stopwatch, measuring capacity: 23:59'59.99", measuring modes: elapsed time, split time, 1st-2nd place times, hourly time signal and a calendar (pre-programmed until the year 2079).Casio has just refreshed their decidedly retro-line of calculator watches. All cost $59 a piece, except the black, which costs more than its colored. The black one is $69.